How Automation Blessed The Private Label Manufacturers?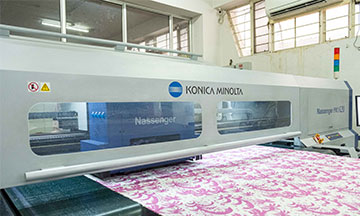 The textile industry is one of the largest industries in India. According to the reports, the textile industry accounts for nearly 35 million jobs that contribute to 4% of the GDP.
Technology has upgraded a lot in this niche, and today, automation has replaced labor work that has benefited the industry in various aspects. From the addition of advanced machines like multi-threaded embroidery machines, laser cutting machines, digital printing, and many more, it has become highly convenient to occupy the market with new and trendy clothes.
Numerous Garment Exporters in Jaipur already have these automated machines in their manufacturing unit, hence ruling the market. However, not many people know how automation has completely revolutionized the way private label manufacturers work.
Let's directly jump into the benefits of introducing automation in the textile industry.
Workers Safety
Workers' safety is always paramount. Numerous operations in the textile industry are hazardous for laborers. Such dangerous conditions can cause external or internal injuries to them, putting their life at risk. Replacing machines with laborers takes out this hassle and provides complete safety from hazardous operations.
The machines are now capable enough to work as per instructions, without involving human beings and maintain the same production quality & quantity.
Reduction in Waste
Believe it or not, advanced machines can consider the environmental burden and reduce waste material from the manufacturing units. Alongside waste reduction, these advanced machines also provide high accuracy with negligible errors.
With all this, the cost of production decreases, adding more to your profit. Moreover, it also helps in manufacturing more readymade garments from the available fabric. In short, with a decrease in waste, your profit margin will increase.
High ROI (Return on Investment)
Yes! Saving money and increasing your ROI is what every private label garment manufacturer looks for. The involvement of machines in the textile industry helps you increase the production count and serve the customers/clients before the deadline. All this is a positive sign of getting a high ROI compared to manual processes used decades ago.
High efficiency and low investment are one of the major reasons why advanced machines are being used in the textile industry. However, it's essential to keep track of your ROI to evaluate your efforts and how the machines perform. This will help you serve multiple clients/customers streamlined without worrying about the threshold delivery date.
Turn Repetitive Task into Automation
If you ever acknowledged, most of the tasks in the manufacturing unit are repetitive and monotonous. Hence, the laborers need to continue repetitive and boring tasks every day. Machines take charge of the entire repetitive work and lessen the monotonous tasks dependency on manpower. Continuing repetitive work increases fatigue and decreases efficiency. However, machines have no such issue, and hence you can continue manufacturing garments at the same pace as earlier.
Jobs Beyond Human Capability
Humans have invented machines to lessen their efforts and do complex operations that humans cannot do in a given time frame. This trait is helpful for humans as manufacturing units are upgraded with advanced machines that can perform complex operations without human involvement. Above all, automated machines never miss the deadline.
Decline of Human Labor Cost
Every manufacturer searches for smart opportunities to cut human labor costs, and the replacement of humans with smart machines is one of the great opportunities. With automation, machines based on the data provided previously, available resources, raw material, and more perform maximum operations. Above all, machines don't require training to earn expertise. They entirely rely on instructions that are done repetitively.
More Jobs for Skilled Professionals
After the inclusion of automated machines, the dependency on skilled professionals has increased. Machines require instructions to perform daily operations. Hence, the necessity of layman workers has decreased but increased demand for skilled workers who are experts in the textile industry and can better handle various automated machines.
Better Job Security
Regardless of how technology will grow in the future, the demand for skilled professionals will remain as is. The machine will always require an expert to control the functionalities and operations. From stitching fabric to laser cutting, every task must be done precisely, and hence experts will remain in demand for long.
Cheer Sagar is the premier private label manufacturer in India, currently offering numerous clines across the globe. We are a legit and authorized readymade garments manufacturer committed to providing best in class fabric without compromising quality.
We have numerous advanced and updated machines in our manufacturing unit that help us boost the manufacturing limit and serve you before the delivery deadline.
Whether you are a small business or a renowned garment brand, we are the right person to take your bulk readymade garments order and provide you with the best quality clothing at highly affordable prices. We are just a call away from you. Let's have a call [Phone Number] and discuss your bulk order requirements.