Hard work and determination is the right ingredient for success. But when combined with the latest technology, it helps an enterprise become consistently unstoppable. We, at Cheer Sagar, update our machines and technology from time to time so as to bring our clients the best fabrics, garments, and designs. From fabrics to accessories to kids' and women's wear, our machines along with our skilled team, are equipped to deliver.
Client satisfaction is a priority at Cheer Sagar and to achieve that, we have gone from having 50 machines in the year 1991 to 750 machines today. We have the latest Konica Minolta Digital printing machine, Optitex CAD, specialized Juki sewing machines, Japanese Barudan multithread embroidery machines, Laser cut machines, Renzacci dry cleaning machines, Hashima needle detection machines and an integrated ERP system through which all business operations are carried out in-house. We print the most beautiful, edgy, and trend-setting designs to deliver to our clients' world over.
DIGITAL TEXTILE PRINTING
We are equipped with the latest Konica Minolta Digital printing machine. With the help of this machine and along with our creative staff, we print the most exquisite and innovative designs on our carefully sourced fabrics.
When traditional meets modern, something magical happens. Our innovative designers do just that. They bring magic to the fabric with their creativity. From floral to abstract to anything and everything our clients may need, our machines and designers work in perfect harmony.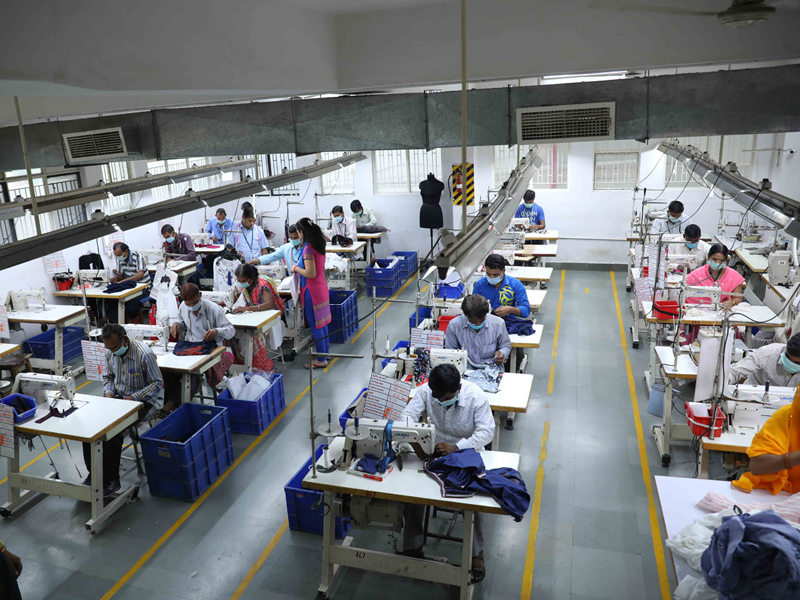 JUKI STITCHING MACHINES
Cheer Sagar is equipped with 4 cut-to-pack garment production units and have over 800 single needle Juki UBT machines. We can fulfill small or bulk orders with the same amount of ease for we have a capacity of producing 25,00,000 pieces annually. Be it sourcing of the fabric or sewing, we have quality checkpoints at every step to ensure that our clients only get the exquisite clothes.
With real-time quality control and precise execution of QA procedures in conjunction with lean manufacturing initiatives, we consistently create quality products. Along with Juki machines, we also have Single needle 800, Overlock 50, Button machine 10, Button hole machine 10, Double-needle machine 10, Fusing machine 5, Cutting machine 12 to keep producing and making magic 365 days a year.
EMBROIDERY MACHINES
Cheer Sagar has Japanese Barudan multithread embroidery machines, which help in bringing out the beauty of our fabrics and garments. We aim to bring together modern and traditional designs to our embroidery patterns to make them trendsetters.
With the help of the Hashima needle detection machines, our skilled employees are able to get the stitching done right. Every product that comes out of Cheer Sagar's facility has to be flawless. Be it sourcing of the fabric or sewing a button on a top, we do quality checks at every step to ensure that our clients only get the best clothes.