Top Ten Fabrics For Sewing Women's Cloth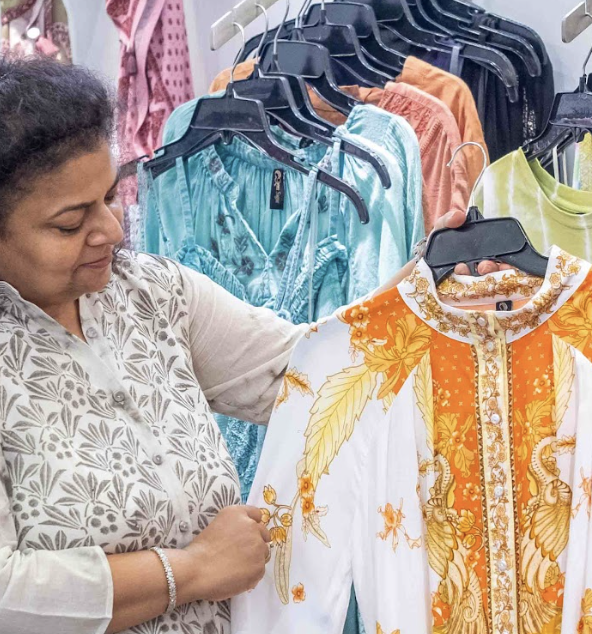 If women's clothing were made by only focussing on how it looks, women's fashion wouldn't be the same as it is today. Overall, the look and feel of a women's outfit depend a lot on what it's made from, and many of you girls out there might prefer some fabric over the other. However, be assured that there is not a single fabric that both feels and looks good. Based on your preference, below are given the top ten materials used for making women's clothing in today's time.
Top 10 Fabrics Used For Making Women's Clothing
Rayon
Do you see those flowy summer dresses that drape smoothly around your body and give you a lovely shape? These are the dresses that are made of rayon. They are in no way stiff and fall across your body, very complimenting your shape, which makes it an ideal fabric for making dresses, skirts and peplum styles tops and bottoms.
Lace
Women love the lace detailing, be it for lingerie or for an LBD. Out of all the other fabrics, lace looks the most feminine, intricate, and sultry. Most women love lace, and if you happen to be a lace lover too, you can get your whole dress made with a lace lining to create your desired outfit.
Polyester
Bright and summery-colored clothing is made from this type of fabric. In general, polyester is an excellent choice for making beautiful dresses and skirts and goes as long as they don't need much maintenance and retain their original form even after many washes. However, some women may find this fabric hard to breathe in as the airflow in this fabric is much less compared to others.
Linen
This fabric has been used to make both women's and men's clothing alike for a long time. According to popular belief, linen can be quite stiff and crinkly, although if you can find good quality linen, you'll notice how soft it is and can be made into amazing skirts and dresses with pleats.
Blends
Blends are created when two or more than two fabrics are blended together to form a single yard of fabric. Blends are one of the most used fabrics in today's time, and understandably so, as blends are great for making women's wear. For example, if a dress is created using a cotton and rayon blend, it will have qualities of both fabrics, which are comfortable as cotton and naturally flowing as a rayon. Wouldn't it be great to make a custom outfit with your favourite blend?
Wool
Fashionable clothing pieces made from wool are different and much thinner than the wool used for making winter items like blankets and beanies. But the dresses or outfits made from wool look super elegant and are a great choice for those seasons when the cold is lingering at your doorstep, although it's generally warm outside.
Knit
This fabric has slowly but surely gained prominence in women's fashion over time. Knit is known for wrapping around your body nicely to give you a shapely body-hugging figure which is a great choice for pencil skirts and bandage dresses.
Satin
As we move towards the runner up fabrics, let's talk about some luxurious fabrics like satin. As a fabric, satin is on the more expensive side and has a rich and elegant feel, making it great for special occasions and events.
Silk
Another fabric that looks and feels luxurious is silk. It is one of those indispensable fabrics that women love to wear, especially for Indian traditional wear of its beautiful draping nature. One of the must-haves in your closet, owning a single piece of silk clothing cannot be enough for anyone!
Cotton
Lastly, the show stopper is cotton. At the end of the day, today's fashion is all about being comfortable and confident in your attire, and nothing is more comfortable than good-quality cotton. Not only is it comfortable, but T-shirts and tops made from cotton also are the most common regular wear for women, and it is here to stay and remain trendy.
Finally, Make Your Own Outfit
Now that you know about most of the fabrics used to make women's wear, get your own yard and start designing and building your dress from scratch to build your perfect outfit. To get your preferred fabric, you can consult with CheerSagar to get the best quality fabric at a budget price.